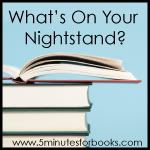 Wow! Some months are just overwhelmed with great books, and happily April has been one of those months!!
RAVES!!!
Kirkus Reviews a
re usually dead-right. This IS one of the best books of the year, without doubt! Everything about this marvelous coming-of-age story rings true. From the embarrassment over a geeky Dad and disappointed Mom, to the "not worthy" feelings toward the lovely girl in the new, fancy house--it's all there. All of it. And, I felt it all both ways--as the person coming of age in the same time period and as the parent who is the "geek."
<
I fell hopelessly in love with Jamie Ford's writing when my son and I listened to an audio of
Hotel on the Corner of Bitter and Sweet
a few years ago. His new book, Songs of Willow Frost, has that same poignancy, that same "believe-ablity," This time, though, I was glad I listened alone. My children are adopted and this book gave me tremendous insight into the desperate place they are in--they love me and our family, but there is always that "what if...." Jamie Ford captures that "what if" so beautifully. He also makes sure the reader feels the innate sadness of an orphan's life without it being a maudlin or depressing story. My heart clinched so many places in this story; my tears came freely at other places.
"You can't expect children to sew their own gaping wounds without leaving a terrible scar." (p 183)
. This one is going head-to-head with Year of the Comet for best book this year (even though I believe it was released in 2013)--this year on MY blog!
The Songs of Willow Frost
by Jamie Ford.
"'Do you have children?....Now imagine if, just to spite you, they do the exact opposite with their lives from what you hope they will.'" (p. 107).
Usually a story told in non-linear fashion gets annoying to me--not so this time. There IS a method to the madness and it is to tell a very griping story. This books was MESMERIZING. I had to ration it--it had that great a hold on me. In the last part f#-! became his go-to word and it cheapened the book unnecessarily, even if it was meant to convey the changing times or the something else . That's a very minor detraction though, from what is truly a work of art. Nonetheless the author is a gifted storyteller. I hope to read many more books by him. The Headmaster's Wife by Thomas Christopher Greene [NOTE: without spoilers I will say there is an event when taken out of context may upset some readers.]
This book is being devoured by book clubs, so I knew I'd read it eventually. I was aprehensive though--a hospital in the most bungled natural disaster in American history? Wouldn't it be the ultimate in rubber-necking to read this? No. It was the ultimate in human experience--both the good and the bad kinds. I felt for most of the people in this book--most. I won't say which ones did not earn my sympathy. But it does make all those deadly dull emergency planning meetings I've attended over the years seem worthwhile. And those emergency posters SHOULD be posted. Read this book and you WILL volunteer for the Red Cross and go thru their training and answer the call. Ditto FEMA classes (Did you know you can earn college credit for those?). This book is why I generally prefer non-fiction--this is REAL. It happened. These are real people. Five Days at Memorial by Sheri Fink.
What do you call any book after those amazing reads? Really Good? Fun Read? Worthwhile? All make the author's efforts seem less than they deserve. Next up are two books, chosen coincidentally, about the start of war in France. The first in World War I, the second in World War II.
1914: A Novel
"[she] sees only...kids whose footsteps sound hollow on a stage too large for them." (p. 22) Sadly, this is the only quote I recorded in my Commonplace book from this novella. It is haunting though in the way it shows the utter futility of that prolonged conflict. 1914: A Novel by Jean Echenoz
The first part of this "Suite" had me wishing for more--the exodus from Paris as the Germans approached, the resulting struggle to survive while stranded--it was gripping. The personalities emerged and took hold of me--I wanted to know how their stories came out. The rest of the book--not so much. While there were mentions of the first characters they were fleeting and meatless. I found the story of the occupying Germans far less engrossing. The author's personal story, deported and killed at Auschwitz, will stay with me far longer than most of this book. Still, it does add to the knowledge of the war in that the lives of the occupiers has seldom been told.
Suite Francaise
by Irene Nemirovsky (Sandra Smith). I listened to the audio version of this book.
Highly Recommended
What a sweet book! Still I was jarred by the necessity of informing us that the Ambassador's 'friends' [and the Ambassador was not a character in the story] were homosexuals. Why in the world did this merit a mention? The man had no part in the story save accepting a phone call. That was weird.

And, while only a librarian of my age or older (i.e. born in the JFK years or before) would find it just plain weird that the main character worried about the state of the library card catalog when she got home! Really? No one did anything physical to a card catalog except the librarian. And then only when there was an addition or deletion to/from the collections!! Weird!! So to was calling her work "librarying" ok.......................

The picky stuff: "shaking up," "red light--green light" before stoplights? Flashlights when most of the area had not yet had electricity? "toilet house?" MacArthur as a recognizable name before the Bonus Marchers were run out of town by Doug & Colonel Ike. And illegitimacy raised no eyebrows? Really?

As I librarian I got m a bit tired of "librarying"

Still, these are picky things-- I HIGHLY RECOMMEND this book! And, I look forward to her next novel. A Star for Mrs. Blake by April Smith. I listened to the audio version of this book.
"Ok"
A book about birding with a character who played the bass clarinet got my attention instantly. A good review from NPR didn't hurt. Ultimately this book fell short. I've lived in the parts of Southern Indiana mentioned in this book and the Klan is still very much present. Transplants often find this strange. I do not think the Klan deserved the extreme attention it got in this story. Subtract that and you have a great book.I just don't think a hate group needs a chapter unless you are writing about the 1920's when it should be the focus on any history of the state of Indiana for that time period
Snapper
by Brian Kimberling. I listened to the audio version of this book.
I bought this super cheap for Kindle, and for the most part it's a good read. (Wish he'd quit calling flannel shirts "a flannel" it's that was annoying!). Overall I agree with the reviews--it IS like Garrison Keillor and Lake Woebegone "got real". I could have done without the trapping story, but that's just me. The story of the disabled girl--that shouldn't have been printed. Due to that story, I can't recommend this book. The author tells a great story, but that chapter showed a terrible lack of judgement.
Farmer's Almanac: A
Work of Fiction
by Chris Fink
JUST SAY "NO"
I threw these back.
I generally like Elizabeth Berg's books, but this one just didn't do it for me at all. While Jamie Ford's book told of the pain of orphaned children, I could not get past the whiney self-centered attitude of the birth mother wanting to reunite with her child. Please don't get me wrong! I cannot imagine the pain of giving up a child. I am not criticisng any real person. This is a work of fiction and this character just grated on my nerves. The whole set up of the book grated on my nerves. I tried and tried to listen to more of it--as I said, I usually LIKE Elizabeth Berg's writing since she writes about people I can accept as "real." Not this one.
Tapestry of Fortunes by Elizabeth Berg.
I wanted to like this one and even wanted to stay with it, but in the end I just couldn't. An entire discussion of what household objects, vegetables and fruits make the best masturbatory aides just doesn't deserve my attention long enough to finish what might otherwise have been an interesting story. Meyler CAN write and CAN tell a story. How unfortunate that she (or her editor) felt it necessary to delve THAT deeply into a character's personal life. Just no to this one. I listened to the audio version.
The Bookstore
by Deborah Meyler.
Need ideas on what to read next? See all the
Nighstand posts for this month at 5 Minutes for Books.