And now for our September Author Interview with Susan Barnett Braun and a look at her newest book!
Susan Barnett Braun's newest book is a biography of Kate aka Catherine, Duchess of Cambridge. You know--Prince William's wife and Prince George's Yummy Mummy?? If you have a young girl gaga about the royals, then buy this book!! Perfect biography for a young royal watcher or for your daughter's classroom or public library!! There. Do it. Buy three copies!!
Here's part of my interview with Susan Barnett Braun. Note: I was given an advance copy of this book for review purposes but was not required to post a review or to review it favorably. I am happy that I can give it a full four stars though!!
ME: How did you get interested in the British Royal Family?
Susan:
*I've been interested in the British royals since Diana came onto the scene in 1980. I was in high school, and the whole innocent-young-girl-meets-and-marries-her-prince thing was a big draw to me. I wrote my senior research paper on "the royal romance," despite the teacher's lack of support. I've been hooked ever since.
Susan: I see Kate as the Diana of a new generation. If I were a girl/tween/teen today, I can see that I'd be just as infatuated with Kate, here story, her clothes, etc. as I was with Diana. In a world with a lot of serious issues, the royal family is just a fun distraction!
Susan: *No new writing projects at the moment; I find that promoting my current 5 books is plenty of work. Every time I write a book, I think it will be my last. I wouldn't be surprised if something inspired me ...
You can view all five of Susan Barnett Braun's books--3 are for children--at her
Amazon author's page
.
To see her own What's On Your Nightstand post for this month, go to her blog
Girls in White Dresses
. Susan has done a guest post here at My Cabinet of Oddities on
The House of Wittelsbach.
I previously reviewed her book "
I Love to Tell the Story: Growing Up Baptist and Blessed in Small Town Indiana.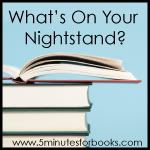 This was a so-so month for reading. One block-buster that disappointed, and a few others that just were not really fabulous and a few that were really worth it.
I love Anju's story!!! So fun! On the heels of Jessa Duggar's courtship announcement it was so fun to hear the OTHER side of arranged marriage--the bride who gets no offers! The constantly searching mothers, the fathers tossing money around, the brothers biding their time with too many choices--it all resonates regardless of the country or culture doing the arranging. Anju has miraculously gotten herself out of India and off to New York--first enduring living in the suburbs with an Uncle and Auntie, now on her own. Has this made her "damaged goods?" Why would I spoil it for you?? It's such a good story! Go enjoy it!
For Matrimonial Purposes: A Novel
by
Kavita Daswani.
Lynn Austin is quickly becoming my favorite Christian author! While I scoffed a bit (but enjoyed) the first book in this series, I simply did NOT want the second book,
Fire By Night,
to end!!! James and Julia's story was so compelling!!! Mrs. Austin--PLEASE!!! A Sequel to this one!!!!! Please, please, please???? If you enjoy civil war fiction, this is a must.
Fire by Night
(Book 2 of Refiner's Fire) by Lynn Austin.
This book had such potential. The writing is very good, but it just..............didn't happen for me. [Shame since the author is pretty darned handsome.] It will be a blockbuster movie though. It has all the right stuff--a back story featuring the filming of "Cleopatra" and the early love affair of Liz and Dick on the set as well as a young man and a young woman who almost connect. Still, it just didn't make it to "wow" by any stretch of my imagination. It was also edited like a game of pick-up-sticks--a pet peeve of mine. The chapters were seemingly randomly thrown together--linear timelines in storytelling being so "old school" but not old school enough to be cool & vintage, apparently.
Beautiful Ruins
by Jess Walter.
I've been tempted by Tracy Chevalier's books before, but faced with a long drive and no care stereo I finally found my "moment" for her work when I took this on a digital audio player at the recommendation of my public library director. So glad I did! While this, too, didn't garner more than "3 stars" in my ratings, it was still a very compelling and oddly enjoyable tale. Mourning in the Victorian and Edwardian era was a way of life. Queen Victoria too it to its highest levels ever. So when two young girls meet at their family's graves on the day of the Queen's death, its only natural that mourning should be part of their play. The two families, one conventional, the other sucked into the suffragette movement, are the focal points of the novel along with the cemetery director and a young grave digger who becomes the girls' friend. This is as much a fascinating social history as a novel. The one note of dissonance was with the audio book--a British reader would have been far more appropriate to the setting of the story.
Falling Angels: A Novel
by Tracy Chevalier.
I've fallen away from reading as much non-fiction as I normally do. In part this is because I'm writing a novel and need to stay in touch with fiction to keep that flowing! I did take time out to read two books, slowly, over the summer that helped me understand more about myself. Like nearly every librarian ever born, I'm an introvert. So, these two books both offered me a very, very useful glimpse at who I really "am." I highly recommend both--especially to teachers at any level. I've recommended both as potential additions to the university's faculty book club--that's how powerful I found them to be.
I highly recommend this to any parent whose kid is "different" in any way. Sadly we are not all meant to play soccer, don't all need to have an enrichment class daily after being forced thru 6 to 8 hours of mind-numbing school. Read this and believe it then leave your kids alone to be who they are. Teachers, you too, need to realize that more socialization doesn't make someone social--it often makes them miserable. I know. I was THAT kid.
Creative You: Using Your Personality Type to Thrive
by David B. Goldstein and Otto Kroeger. I would add that this book is ESSENTIAL to anyone wanting to change careers, figure out what they want to do when the grow up or simply break out of rut or niche that no longer satisfies. I found myself, a hater of contrived journaling, actually doing the unthinkable--JOURNALING about this book in different colored ink with drawings and helpful charts to myself all in a purpose-bought composition book! I have spent hours reflecting on what I learned here. I cannot recommend this book strongly enough. I'm glad I didn't buy the kindle version--I wouldn't have had the journal to go back to--only highlights and ransome-note style notes!!
Want to see all the great Nightstand posts for September?
Go to Five Minutes for Books!