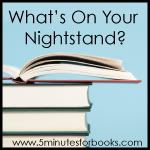 Anne Hood is a favorite contemporary author of mine. I met her in her debut novel,
Somewhere Off the Coast of Maine
, and have enjoyed her ever since. The Obituary Writer tells the alternating story of Claire and Vivien, two women from different generations united by motherhood, by grief and by love. While there were some glaring editorial errors in this book, the story was amazing. I struggled only to put this down. Like Mr. Emerson's Wife last month, Ms. Hood was able to make the physical act of love into something profound and beautiful that I gasped reading this line: "
when he entered her, it was as if something she had lost was returned to her....
" (p. 177).[Note: this is not a sexually graphic novel, but I felt this line was really beautiful.] Beauty, love, loss, triumph--this book has it all.
The Obituary Writer
by Ann Hood
I'm sure my Facebook friends must have grown weary of hearing me swoon over this book! Honor Harris and Richard Grenville, the King's General in the West, are caught up in the English Civil war. Richard, a rapscallion of the highest order, is the love of Honor's life. A man's man to the core, Richard bears his own version of true allegiance to his lady. The rough times of the war, the rough and ready personality of Richard, the unconditional love Honor holds for him, all create one of the most memorable love stories ever. Daphne Du Maurier, author of Rebecca, and wife of World War II General "Boy" Browning, weaves a web of almost fatal love and attraction that is not to be missed. I seldom buy fiction, but I ordered bought this one and will be re-reading it for years to come.
The King's General
by Daphne Du Maurier.
Like many romantics, I first read F. Scott Fitzgerald in high school. I soon read every title of his I could locate. In college I took a course on the history of Paris and Berlin in the 1920s, where I encountered Hemmingway's
Moveable Feast,
and it's highly unflattering story of the two comparing their "manhood." Until then I don't think I'd connected great writers to each other as friends.
Z: A Novel of Zelda Fitzgerald,
explores both that friendship and the tempestuous marriage of Scott and Zelda Fitzgerald. Like Loving Frank did for Frank Lloyd Wright, "Z," brings the couple fully alive before the readers eyes. The prose is captivating, the characters so believeable, even as their life becomes nearly surreal. Early on, we are shown Scott, who "
looked like the man he said he was going to be
." And tragically we come to the time when the Fitzgeralds found themselves with "too much everything, not enough anything,? and their beautiful world fell to pieces. Zelda's decent into mental illness is tragically and hauntingly told in the first person narrative of this marvelous book. This is, however, first and foremost a story of love, secondly of everything else. This is simply not to be missed.
Z: A Novel of Zelda Fitzgerald
by Therese Anne Fowler.
What's not to like about a small Southern town with a "Miss Delta Floozy" contest? Or, for that matter, what's not to love about a 50-something widow finding love for the second time with a handsome man who used to own a ballroom dance studio? Second Creek, Mississippi, is a town you'd want to call your own. Full of loveable wackos--most of whom are faithful friends and helpful neighbors. Laurie Lapanto and her "Nit Wits"--a group of widows who support and care for each other have a large presence in this small town. And, when their beloved Mr. Choppy's IGA store is threatened with closure they come up with a fabulous plan to save the story. An old rumor adds spice to the mix. I am eagerly awaiting the second installment of this series to arrive for me at the library.
Waltzing at the Piggly-Wiggly
by Robert Dalby.
I'm not much for Christian fiction--usually written at a 2nd grade level, chopped up into 15 volumes and over-priced. Lynn Austin is an exception. An exceptional writer who weaves Christian thought and values into fascinating stories. Here's a lovely example from her newest book, a tale of forgiveness with a side dish of love, set in Reconstruction Era Virginia:

"Because there is a difference between happiness and joy. Happiness is external and can change when your circumstances change...But joy is deep inside us and isn't dependent on circumstances." ALL THINGS NEW by Lynn Austin
I threw back
Forgotten Country
by Catherine Chung and
Mudbound
by Hillary Jordan. Both were audio books and I just couldn't get into them. Both may get a second try sometime in the print version.
Need ideas on what to read next? Head over to
5 Minutes for Books and see all of this month's "What's on Your Nightstand"
posts.