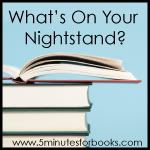 As well as continuing to write my novel, I've also done a lot more reading (and audio book listening) this month.
My only question about Amy Belding Brown's
Mr. Emerson's Wife
is WHY did I leave it on my to read list so long! This was superb! It's one of those book I wish I had written--it's that "real" and that moving. These are not cardboard cutouts of famous men and women. These are REAL people and they come alive on Ms. Brown's pages. The passion, grief, longing, heartache, joy, lust, ennui, fickleness, commitment and endurance of a deeply-felt marriage is all right here in one book. These are not mere "pages" of a story but a canvas ripe in emotional detail--another of those "inner" books I've been speaking of in my recent "Nightstand" posts.
Ms. Brown writes possibly the most amazing line ever penned to describe an act of physical love:
"And how, when he was finished, he displayed such astounding gratitude, as if what I had given him was not my body, but a miracle." (p. 69)
Another line that lept off the page and straight into my heart was this, written about a passionate friendship that may or may not have become physical:
"...she'd given him his most profound experience of the divine..." (p. 304)
This book is so amazing! Three words: Just Read It!
I used to enjoy the late Meave Binchy's books. Then she hit a spell of what I considered "flat" writing that didn't hold my interest. Ms. Binchy died in 2012 and it's a shame in so many ways. Happily,
A Week in Winter,
restored her writing to my affectionate embrace. This story struck painfully close to home in parts, inspired envy in others, and left me wishing dearly that such a place really existed. I will say the beginning did try my patience, but once the book found it's stride I didn't want to stop listening to it. If you are looking for a nice, comforting book to curl up with during these lion-influenced final days of March, then grab A
Week in Winter
by Maeve Binchy just as soon as you finish
Mr. Emerson's Wife
.
Chick lit? Yes--but GOOD chic lit! One of the best debute novels in a long time. Characters, while somewhat predictable, (come on it is chic lit!), most of them anyway, felt "real." Loved the back story of the other main character--the house and Barrie. Couldn't go all the way to 4 stars, but 3 imho is darned good and well worth the read.
The J.M. Barrie Ladies' Swimming Society
by Barbara J. Zitwer.
The Tavern on Maple Stree
t by Sharon Ownes presents the type marriage we all wish to have! A decent, hard-working, devoted man living with his beloved wife in a home made to suit them, doing work together that they love. Apparently he never lays around watching football and she never nags about leaving the seat up so life is great. Joking aside, Jack and Lily, who run the tavern, are a wonderful couple--the kind you'd want next door on your cul de sac.But when their lovely life (not just their lovely home) is threatened both from without and, it seems, from within, they must face hard truths. This makes for an engaging tale that all lovers of chic lit will enjoy. I have previously enjoyed Ms. Owens
Tea House on Mulberry Street
, which I reviewed
here
.
A book can rightly be called a classic when it takes your breath away regardless of it's age, right? After the "Mr. Rochester" story in the last episodes of "Downton Abbey" this season I knew I had to re-read
Jane Eyre,
by Charlotte Bronte. I first read it in junior high school (it helped spark my infatuation with "older" men!!), but at 51 my memory of it was a bit dim. (Mr. Rochester being not a life-long passion like Mr. Rhett Butler was to become!). For several nights, my Kindle was not long out of my hands. I was mesmerized anew by this story. I do admit that my interest in her life after fleeing Rochester and finding shelter dragged a lot and I skimmed it, I was thrilled again when Rochester re-entered the story. I try to read, or re-read, at least a few "classics" every year (as well as a book or two out of my "comfort zone") to expand my mind a bit. Jane Eyre made me then want to re-read Wuthering Heights, so it is now in progress on my Kindle.