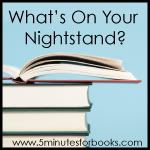 Once again my reading is not up to my normal "competitive reading" levels, but oh! do I have two gems to share!!! Well worth QUALITY over QUANTITY any day!
David Parks must have been sitting in Belfast brewing this marvelous "inner" story for years! It is so well crafted I didn't want to put it down. Exactly my sort of book--lots of inner workings to characters--hopes, dreams, thoughts and fears. Add to that a character just written for actor Robert Bathurst to play in movie version, and you have a winner all around. Nice too that no one is a lithe 20-something hopping in and out of beds with other lithe 20-somethings. A father (Bathurst-ready character) experiencing, on the surface, a Dylan concert, a mother and daughter doing a boozy British pre-wedding "Hen Party," a long-married couple on a getaway--all have their world's rocked without bombs being thrown or war breaking out. This is a book not to be missed. I will certainly be buying a copy and re-reading this one for years to come.
The Light of Amsterdam
: A Novel by David Park
Greer Garson's World War II classic movie,
Mrs. Miniver,
has long been a favorite of mine, so when author Melissa Wiley posted that she was reading the book I was surprised. I'd always assumed it was merely a screenplay. Was I ever happily wrong! Forget the movie (which, after the book, seems terminally silly to me) and the Downton Abbey-esque flower show and dive into this delicious slice-of-life novel the thoughts and life of Mrs. Clement (Caroline--of course she's a Caroline) Miniver, upper-class, but not truly aristocratic wife and mother on the eve of World War II. Coincidentally, this is another marvelous "inner" novel. Enthralling reading--even when it's about the first glimpse of Spring or something as mundane as choosing the year's engagement book. Do your self a favor--grab a cup of tea and just lose yourself in this delightful story.
Mrs. Miniver
by Jan Struther.
I'm also not doing well with audio books right now. Generally I'm glued to one during my 1 hour and 15 minute commute (each way), but I've trouble picking one lately and hanging in with it.
Iain Glen is an actor I discovered thru Downton Abbey and when I requested this book I thought it was a normal audio version of the book. Imagine my delight when I got it and it was a dramatization! Agatha Christie's Evil Under the Sun as dramatized by BBC Radio kept me entranced thru my commute. The book is typical Hercule Poirot--a murder, a bunch of suspects, an unlikely outcome, but wonderful. I will be looking for more of these dramatizations next time I'm in an audio book wasteland.
Evil Under the Sun by Agatha Christie (BBC Radio).
The Beach Trees
could have gone either way--keep or toss. At first it was borderline, but I kept with it and was reasonably happy with that choice. The story has it's far-fetched moments (no spoilers here) but I decided to live with them. It's a fairly standard romance with two missing persons and some other interesting elements worked in. Add the alure of New Orleans, the story of two hurricanes and you have a perfectly decent novel. Far more than the novel, the author's own story piqued my interest: She knew she wanted to write after skipping school to read Gone With the Wind in seventh grade. A soulmate! I will be reading more of Karen White's work.
The Beach Trees
by Karen White.
I threw back, after many tedious hours invested, Louisa May Alcott's
Jack and Jill.
Some books from by gone days are "classics," others fail to weather the test of time. Jack and Jill did not pass the test. I also threw back in disgust the new mystery series that begins with
Mr. Churchill's Secretary
. So not good. Sorry, but when things have gotten so politically correct that Churchill's signature phrase "keep buggering on" must be sanitized then it's definitely a harbringer of a bad, bad book. This one had cardboard characters to the max and failed to capture any sense of the spirit of Churchill or his staff. Read Jock Colville's war time diaries,
Fringes of Power
, or Lord Moran's memoirs,
Churchill at War
(and the sequel) instead. Far more interesting.
What's on Your Nightstand this month? Head over to
5 Minutes for Books
and see what's on all the nightstands this month.