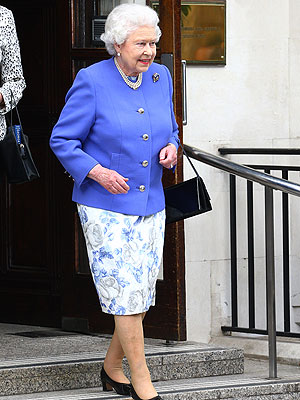 Queen Elizabeth and Prince Philip have a total of 8 grandchildren--although it's mainly Prince William and Prince Harry, the "heir and the spare" that we hear about. A total of 30 years separates them in age, from eldest to youngest. This week we had TWO sightings of the Queen's seldom seen youngest grandchild, James Severn, so we'll start with him!
Photo credit: Justin Goff & dailymail.co.uk
James Alexander Philip Theo is the younger of two children born to Her Majesty's youngest son, Prince Edward, Earl of Wessex. Born December 17, 2007, James is known "by courtesy" as Viscount Severn and this is usually shortened to "James Severn" for school or what-have-you. Like his father as a small child, James is not often seen. At not quite 5 this is to be expected at formal events, but, happily, he DID take part in his Granny's 60th Jubilee Flotilla this past weekend. And, yesterday he accompanied his big sister, Louise, and their parents to visit the Duke of Edinburgh who remains in the hospital with a bladder infection.
James's sister, Lady Louise was born on November 8, 2003, after a scary dash to the hospital in which both she and her mother, Sophie, could have died. She is familiar to anyone who watched the Royal Wedding last year as she served along side the late Princess Margaret's granddaughter, Margarita Armstrong-Jones, as a bridesmaid at the wedding Prince William and Catherine Middleton. It is said she attends St. George's School at Windsor Castle. The Queen recently paid a visit to that school and her picture is now featured prominently on the school's web site. Lady Louise was recently in the press after falling from her pony and breaking her arm.
Photo
source: http://www.dailymail.co.uk
Both James and Louise have "lesser" titles at the request of their parents, but by law should be Prince James of Wessex and Princess Louise of Wessex. Their father, it has been announced, will be Duke of Edinburgh after his father's death. Perhaps at the that time the children's titles will be "upgraded." Since their uncle, Prince Charles, is said to want to "shrink" the rolls of the royal family it's anyone's guess if this will happen. The balcony scene following the Jubilee Service this week was only the Sovereign, the Heir and his family--not the first 50 or so in line to the throne usually gathered after the Trooping of the Colour.
Princess Eugenie Victoria Helena of York, born March 23, 1990 and her elder sister, Princess Beatrice Elizabeth Mary, born August 8, 1988, are the daugther's of Her Majesty's second son, Prince Andrew, Duke of York and his ex-wife Sarah Ferguson. These little girls are poignantly remembered standing in front of Buckingham Palace in black coats and berets and bowing their heads as the casket bearing their late Aunt, Princess Diana, passed.
photo source: http://www.dailymail.co.uk
Princess Eugenie had a curvature of the spine which was surgically corrected when she was younger. She is now the face of that medical issue in Britain. She attends Newcastle University and is slated to make her own way in life outside the round of royal duties. Like Catherine, Duchess of Cambridge, Eugenie attended Marlborough a posh boarding school also attended by Princess Anne's ex-husband, Olympian Mark Phillips.
Princess Beatrice faced another type of challenge in childhood--she is dsylexic. Beatrice attended St. George's Ascot and Goldsmith's College of the University of London. She graduated last year and is now said to doing an internship in the financial sector. She and boyfriend Dave Clark have already been together for several years leading to repeated speculation of another Royal wedding to come. Like her sister Eugenie, Beatrice is expected to make her life outside the royal round of duties.
Zara Anne Elizabeth Phillips is the younger child of Princess Anne and Mark Phillips. Born May 15, 1981, she is just a year older than Prince William. Zara is very well known in Great Britain where, in addition to being part of the Royal Family, she has also been recognized as "Sports Personality of the Year" like her mother once was. Her Grandmother gave her an M.B.E. for services to sport. She also featured in ads for Range Rovers to help fund her career in competitive equestrian sports. Twice she has qualified for the British Olympic Equestrian Team only to be sidelined by injuries to her horse. She missed the weekend's Jubilee activities to try one more time to make the team. Zara and her brother, Peter, were educated at Gordonstoun like their Royal uncles and apparently had a great time. Zara invited the Gordonstoun Choir to sing at her wedding to Rugby superstar Mike Tindall last year. Zara also attended Exeter University where she studied Equine Physical Therapy. She made headlines as a teenage for having her tongue pierced and later, in her early 20s, for living with her then boyfriend and hosting a sex-toy and lingerie party.
Peter Mark Andrew Phillips was born in the first Jubilee Year--November 15, 1977 (missing his parent's anniversary, and his Uncle Charles's birthday, by only a few hours!). Peter is, by many accounts, his grandparents favorite. He was educated at Gordonstoun and at Exeter University. Until recently, Peter worked for the Bank of Scotland in in their sport sponsorship division. His job was cut earlier this year. Unike their titled cousins, Peter and Zara are plain ole Commoners! Peter and Zara are both often seen with William and Harry.
Peter and his Canadian-born wife, Autumn, have given the Queen and Prince Phillip their first two great-grandchildren. Savannah Anne Kathleen Phillips was born December 29, 2010 and her sister, Isla Elizabeth, followed on March 29th of this year. They live at in a house on Princess Anne's Gatcombe Park estate.
Photo source: daily mail.co.uk
Peter is 35 and little James Severn will be 5 just before Christmas this year. This reflects the large age gap between the Queen's own children. Prince Charles was nearly 16 when Prince Edward was born. So, Her Majesty's Great Grandaughters, Savannah and Isla, as well as future great-grandchildren will have Lady Louise and Viscount Severn nearly in their own generation! Only 13 years separate Prince Edward from his first nephew, Peter Phillips.