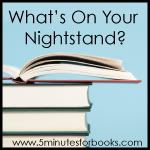 My reading drought has at last abated somewhat. I had one loser and three others that were great reads! So, here we go with the reviews!
The World of Downton Abbey
--well you know I love IT!! Like the
World of Upstairs, Downstairs
that I have, it puts the show and it's characters in their historical context. The photos are fabulous and the text is very enjoyable, but much of it I already knew. I cannot honestly say I read this cover-to-cover but I CAN honestly say I'm buying a copy! (You can read my dreams for
Season 3 of Downton Abbey here.
)
When the Emperor Was Divine
puts a very human face on one of the greatest human rights violations in U.S. History--the forced internment (and loss of property) of Japanese Americans living on the West Coast during World War II. This is a small, compelling book--it's story very personal. I was drawn totally into their world and felt ashamed of what was done to these people. I realize we cannot re-write history and that hindsight is always 20/20, but it is still deeply moving even all these years later.
Debs at War
tells the stories of various young society women--debutantes of the late 1930s--who, like the sisters in my beloved
Downton Abbey,
find life irreparably altered by war. Many, like their age-mates Queen Elizabeth II and the late Princess Margaret, were (in today's terms) barely educated. Taught to dance, play the piano, appreciate fine art, sit a horse and speak French, German and/or Italian none were ever destined for anything more than being a society wife and part-time mother to nanny-reared upper-class children. But the war changed all that. Finding hidden reserves of strength and tapping the intelligence left all but dormant by their successions of governesses (or even young ladies boarding schools) many turned their back on the old ways and created new ways of living for themselves. Among those profiled was Lady Anne Spencer, aunt of the late Princess Diana.
I enjoyed DeCourcy's other "deb" book,
1939: The Last Season,
as well. It dealt purely with the debs of that year. Neither book is likely to be in your local public library, but both are well worth the price. You can skip her book on Lord Snowdon though. Another enjoyable "deb" book is
The Last Curtsey
by Fiona MacCarthy which details the very last debutante season ever at the Court of St. James.
The Magic Room
tells the story of a small-town Michigan bridal shop, Becker's. It's been in the same family for 70+ years and is still going strong. The store's story is told thru the owners, staff and customers. The women, young and middle aged alike, who come for a wedding dress are treated to a trip to the "Magic Room." As it's name implies the Magic Room is where the bride first REALLY sees herself as a bride in her dream gown. But the book is more than just preparing for a trip down the aisle, it's also about mothers and daughters and about what we, as parents, seek for our daughters.
I found it so sad that the author was almost shocked by one bride and her sisters. From a religious, but not a Duggar-like family, they had each reached the conclusion that intimacy must wait for marriage. He tells their story with respect--not mockery, but it's sad that this is seen as so uncommon. I hope this book will inspire other brides and grooms to make this choice.
Whatever your beliefs, this is a book for just about any woman.
The President and the Assassin
is my second presidential assassin book in the last 12 month. (First was Candace Millard's masterful
Destiny of the Republic
on poor President Garfield and his inept medical team.) For me parts of this book were like a college reunion. I majored in Russian and East European Studies and so found all the talk of various anarchists to be like listening to the Beloved Alma Mater song at a graduation service. McKinnley, best know for his revelation from God to keep the Hawaiian Islands (or was that the Philippines?) is little remembered today except for being one of the four fatally shot presidents. McKinnley's story is interwoven with that of the assassin and have few, if any, dull spots in the telling. I enjoyed the audio version on my daily commute and the time in the car went by quickly with it.
Burnt Mountain
was the Book Club pick at one branch of my county's library last month. It sounded interesting and, as I had no other audio book at the moment, I grabbed it! Huge mistake. I knew when one character actually said "
faith and begorra
" that it was not going to be good. A coincidentally-written-the-night of dying letter didn't help. And, how many folks had cell phones before the Atlanta Olympics? Oh well those were MINOR points. Just how awful this book would become I could never have imagine without the help of halucinogenic pharmaceuticals! When scenes near the end that came dangerously close to pedophilia, I threw the last disc back into the container and didn't bother finishing the last few tracts. This book is just plain awful. Skip it, please. I even stopped to complain at the library--something I've never, ever done!
Need ideas on what to read next? Stop by
5 Minutes for Books to see What's on all the Nightstands
this month.