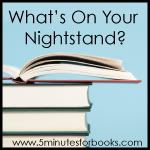 Thanks in part to my "Monarch of the Glen" marathon I haven't read much this month! I've also had a hard time connecting with the right audio books for my long daily commute. Books that were interesting stopped being interesting. And, I just plain picked some lousy books! Even bad months do have their gems, though, so here goes!
The Immortal Life of Henrietta Lacks
is a fascinating biography and science story all rolled into one. I know almost zip about science, but found myself sitting in the car listening to "just a little more" each day. A cell culture taken from a low-income African American woman turned out to be the golden-egg-laying-goose for science. That's the simple part. The more intriguing part is the story of how Mrs. Lacks family dealt with this. Mrs. Lacks grew up in an isolated, impoverished area of Virginia that was kept cut-off from mainstream society by first slavery, then reconstruction and finally Jim Crow. Even in her current-day descendents there is a surreal innocence about science so much so that listening to it brought to mind not contemporary conversation, but a journal of Margaret Mead written on some forgotten island. It's the harsh reality of what was done (and is still done) to African Americans in this country that makes this story so riveting. The Lacks family has endured some of the worst treatment this country can dole out. Henrietta, her elder daughter and consequently her younger daughter have suffered in ways that no middle class white woman like myself can even comprehend. This story will continue to beckon to Book Clubs for generations. Every woman alive should read it and be grateful for the medical advances that came thru Henrietta and to atone for the ill-treatment this family has suffered.
The Immortal Life of Henrietta Lacks
by Rebecca Skloot.
A Distant Thunder
by Anne Topham was a fascinating read that I enjoyed slowly over the last two months. The book is the author's memoir of her time as one of the governesses of Kaiser Wilhelm II's only daughter, Princess Viktoria. It was, of course, interesting to see the Kaiser as his daughter knew him, but what was more interesting was how the attitudes of the Hollenzollern Court helped pave the way for the Nazis. The militarism, the anti-semitism (although not on the part of the Kaiser himself apparently) and the very prescribed roles for men and women. Fascinating social history. An excellent choice for anyone who enjoys reading about royalty in general and the descendants of Queen Victoria especially.
A Distant Thunder
by Anne Topham
There is so much to love in
The Wilder Life: My Adventures in the Lost World of Little House on the Prairie
, but I ended up NOT loving it. I did love that the author's family, like mine, didn't care for the tv version with Michael Landon and preferred instead to watch
WKRP in Cincinnati
(and who wouldn't?). I loved that she lived in Chicago (one of my favorite cities), that she worked in publishing and that she seemed to share my sense of humor. And I REALLY loved her response to making butter. But after a while it all sounded alike. And, after a while, I got tired of the ever-so-polite Christian bashing (no I don't mean it for those survivalist freaks). Snark only carries a book so far. Her passion for
Little House
should have carried the book, but her attitude got in the way. As an editor she should have known better. Is this worth reading? Of course--especially if you've ever dreamed of forcing the family into an RV and heading out for Iowa, Wisconsin, Kansas, Minnesota or Missouri to see the various places Laura lived. It's a great reality check. It's so fun in so many places--it just should have been way better.
The Wilder Life: My Adventures in the Lost World of Little House on the Prairie
, by Wendy McClure.
I was very excited when I read the premise of this book--a girl can "taste" the emotions of the people involved in growing, processing and cooking her food. It made me instantly think of that little touch of fantasy or whimsy in
Sarah Addison Allen's
fun novels. Sadly, this was not the case. In places it was just plain weird. While mostly "ok," the prose often sounded like an over-reaching MFA student trying to stand out from the pack. Here are some choice examples:
a pepper "PILLAR" instead of shaker or cellar
"a purple-glassed" (votive candle)
"during the babysit" or even "in the babysits"
"[her] quicknesses"
[cheeks or lips] glistering
I was interested enough (just) to finish it, but at best I can only say it's worth maybe 2 out of 5 stars. Add to this the fact that the author was the reader of the audio version (not always a good idea--case in point "Wrinkle in Time" read by the lisping Madeline L'Engle) and you have a not very satisfying fiction experience. The Particular Sadness of Lemon Cake by Aimee Bender.
Now, take a minute to head over to 5 Minutes for Books to see what's on the other nightstands this month.