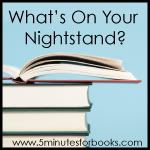 Not my best month for choosing books! I threw
The Tiger's Wife
back and should have done the same with the
Cat's Table
which went from a great story of a boy's adventure on an unaccompanied ocean voyage to a complete ship wreck of a book of RMS Titanic magnitude! I also wasted time on a "ho-hum" biography of Queen Elizabeth that added absolutely nothing to my knowledge of her and did nothing but string together quotes from other books--all of which I'd already read!
I love stories of immigrants and expats--both here and abroad. Lula, an Albanian who finds her first American "niche" taking care of a father and son whose wife/mother has fled is adopted by 3 fellow Albanians just as she is adopting the boy in her care into her own heart. There are funny moments, sweet moments and scary moments. The characters are not as real and fleshed-out as they could have been, but overall this is a nice story.
My New American Life: A Novel
by Francine Prose.
Another immigrant story! This time an after-the-war-"war"-bride Japanese wife of an American serviceman makes a life for herself in the America of the 1950s and beyond. The story is told with "help" from a "Guide" for such wives of the type that could have actually been distributed to wives leaving for the U.S.A. Shoko and her daughter Sue (and annoying granddaughter) are the main focus of the story as Shoko seeks to connect her present with her past. Most of the story is enjoyable. Why we needed a fertility shrine with a large-than-life ____ or why we needed to know what Shoko does to relieve the tedium of no love life is beyond me. The sledge hammer pounding the injustice of her present-day cousin's romance was way overwrought and came off as a gimmick--the product of a 20-something uber-PC editor. Ignore those and enjoy Shoko's story.
How to Be An American Housewife
by Margaret Dilloway.
This book is funny, sweet, gross and fascinating! Life in Maoist China took many odd turns and this little novel tells one part of that story. Two young men, city boys from "bourgeois" elitist homes (one the child of a doctor, the other a dentist's son) are sent to Phoenix Mountain for "re-education" by the proletariat peasants. Along the way their adventures are in turns funny and enlightening as well as typical to their age. It is their hunger for literature (books are banned) that keeps them sane. Wonderful little book that I will likely read again!
Balzac and the Little Chinese Seamstress
by Dai Sijie.
The novels above were all audio books I listened to on my commute. Most of my "print" reading was non-fiction, but even in that area I got almost nothing read! An exception is Jerrold M. Packard's
Farewell in Splendor: The Passing of Queen Victoria and Her Age
. I liked his earlier book,
Victoria's Daughters
much better although this book WAS interesting. What spoiled this book was not poor writing or abysmal research--both of those were fine.
It was the "tone." I felt like I was reading a history report by a very spoiled 15 year old boy whose only interest in the subject was to mock it and make cheap jokes. Constantly referring to the Queen's younger daughters as "
The Petticoats
" based on a cheap joke by courtiers Packard violates the rule I've taught my kids: "
Once is funny, twice is obnoxious.
" You can SEE the smirk on his face as he typed this book. In spite of THAT, it is an interesting book. By now most royal watchers know that it was Lord Mountbatten's father (and who else could it have beeen? to use Packard's smirk-tone!) who saved the day at the funeral and established the now traditional use of Sailors to pull the gun carriage with the monarch's coffin instead of those unreliable horses! Kaiser Wilhelm looked good for a change, but his Aunt Beatrice looked worse.
If you enjoy Royal books and, like me, missed this one when it came out then read it and ignore the smirk.
Farewell in Splendor: The Passing of Queen Victoria and Her Age
, by Jerrold M. Packard.
I wasted too much time on Andrew Marr's neither "intimate" nor "revealing" biography
While some errors, such as the color of Charles Aston Martin (BLUE not green) do not detract too badly, saying that King George VI suffered from BOW LEGS defies imagination! Knock knees are not the same thing! I could go on and on here. (Sad fact checking for a journalist!) More serious is the fact that he comments on Philip's "Nazi" relatives without reading the main book on the subject--
The Royals and the Reich
. There is absolutely nothing new here. Unnamed "court officials" could be anyone--the lady who irons the dinner napkins or a Guardsman who has stood duty outside the palace. He even says the infamous
Crawife book
should be seen as a great source--after Hugo Vickers revealed the truth of it! Unless you have never heard of Queen Elizabeth, skip this mess.
The Real Elizabeth
by Andrew Marr.
Finally, I reviewed the
Lazy Couponer
by Jamie Chase.
Check out all the books at
What's on Your Nightstand
this month hosted, as always, by
5 Minutes for Books.