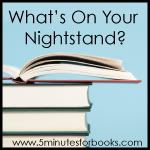 The Wonderful.....
First off I reviewed Kathryn Stockett's best-selling book,
The Help
,
here.
Like a few other novels this year, I finally got into this one on audio!
The Willoughbys
by Lois Lowry, a fabulously literate and delightfully silly book about a sibling group who get to recreate their own family. Teachers will rub their hands in glee at the rich vocabulary, then shudder at the thought of the complaints if they read it with the kids! It's that type books--but oh!! What a Wonderful Book!! Sort of an anti-
Penderwicks
!
In the Sea There are Crocodiles
by Fabio Geda
I didn't know what to think of this, but ended up marveling at this boy's survival instinct. Makes me cringe when I think of the silly stuff we American parents "worry" about happening to our kids--like bad grades, not being picked for the team or having to eat nutrition-free school lunches. This young man, even though this is a fictionalized account of his life, is a ROLE MODEL. And his mother DID know what she was doing--she gave him LIFE for ever, not for the short selfish term.
Quite a few "duds" this month.....
I reviewed the "nothing new about it" "new" biography of Prince Philip
here.
Authors should always write what they know--right? Had David Baldacci not been the author, this would not have seen the light of day. It's not bad it's just not.....good.
One Summer
by David Baldacci.
This novella is written in a unique plural style that alternates between compelling and annoying. Annoying won. It is not a traditional novella. I am fascinated by the women's stories but this was not the way to learn more.
Buddah in the Attic
by Julie Otsuka.
A Covert Affair
by Jennet Conant does not really belong in the duds but it does deserve a lawsuit for false advertising. Lord Mountbatten takes up more space in this book that either Julia or Paul Child. And the author is so dense about HIM she thinks the King of England's cousin and Noel Coward's chum would need the help of a mere American secret operative to get New York Theatre tickets! Please! It IS an interesting book--it's just not about the Childs.
This wasn't bad it just wasn't .....that..... interesting? Nothing wrong with it, just nothing much happened. This is the new LHJ Book Club pick
and I was pretty disappointed after they recommended the
Widower's Tale
which was wonderful.
The Bird Sisters
by Rebecca Rasmussen.
The NICE....
While Philip Gulley's Harmony is not Jan Karon's Mitford it's a wonderful place to visit now and then. I enjoyed both my "visits" to this fictitious Indiana town.
Head over to
5 Minutes for Books
for more good reads this month!