For WEEKEND OF ORGANIZING PART II click
HERE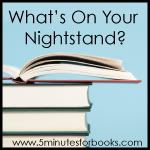 I've come to love and look forward to the novels of Sarah Addison Allen--especially on audio so I can have a fun drive to and from work. Each has a touch of "whimsy"--not really "magic," not quiet "fantasy," just some fun little "other worldly" touch.
The Sugar Queen
lives up to that tradition magnificently! A lady living in a closet (not metaphorically), a domineering mother, a cute mailman--what's not to love! If I write more it will spoil the fun!
The Sugar Queen
by Sarah Addison Allen.
These days people are tuning into gardening and intentional living. Back in the late 60s and early 70s the "back to the land" idea was going strong. Hippies are best remembered for it, but lots of other folks "took to the land" as well. Melissa Coleman tells her family's story in this "Hippie
Glass Castle
" of a memoir. A young family with such promise follows in the heels of the legendary
Scott Neering
and seems to have it all until it all goes somehow wrong. I struggled to put this book down--it was totally engrossing and will be devoured by book clubs.
This Life in Your Hands
by Melissa Coleman.
I'm always interested in great books from the rest of the world. One great source of them is
1001 Books You Must Read Before You Die
. I'm a member of the "sister group," so-to-speak, at
Good Reads
. While I don't always choose to read the Group's current book, I do mine the list it's self for hidden gems. I read Muriel Spark's haunting
Driver's Seat
, due to this list.
The Namesake is the story of the son of India "education immigrants"--Ashoke and Ashima--whose life begins very inauspiciously: the letter from Great-Grandmother in India with his NAME never arrives. Faced with American bureaucracy the father pulls out the name of his favorite author, Gogol, and thus the boy is bureaucratically "christened." And thus begins his struggle to live with the name and it's hidden meaning.
The story of the son, Gogol, growing up and forging his own identity is the main story line, but beneath it is a marvelous view of expatriate life in American--especially the life lead by non-European immigrants. It's the story of making family where none exists, of maintaining the culture and rituals that sustain the parents but confuse the children. It's the story, ultimately, of a new type of classic American family. I simply loved every word of this book. I listened to it and the reader was pitch-perfect on the accents adding another delicious element to this marvelous story.
The Namesake
by Hjumpa Lahiri.
I was a political science major in college--with Russian and East European Studies thrown in for good measure. This book caught my attention immediately! Life in Cuba today is one of abject poverty. It's also a place fertile with dissent. Yoani Sanchez braves the terror of the secret police to keep publishing her blog of her daily life as lived in today's Cuba. It's a story of not enough food, insane restrictions, and yearning for true freedom. It's a collection of blog post so can easily be read in little bits here and there. Each post leaves you thinking and none are quickly forgotten.
Havana Real
by Yoani Sanchez.
This book popped up in my Amazon personal recommendations. It's not new, but I easily located a copy in the library. It did not disappoint. While there were a few tiny historical errors unrelated to the story, it was mostly enjoyable f0r the connections to other books on World War II that I've recently enjoyed. The women whose stories are told here were among the first women to cover wars as they happened, where they happened. Predictably, they were an independent lot. Many tried, and failed, to live a conventional married life. Others had messy love affairs. No matter, they got the story, filed it and lived to tell. It adds a little more depth to my knowledge of the war. Happily, too, the war in the Pacific was included. Often we are told of journalists in Europe (think Edward R. Morrow or the great Ernie Pyle), but the Pacific? And, women covering the Pacific? They're here. An interesting read.
The Women Who Wrote the War
by Nancy Caldwell Sorrel.
I never, ever tire of reading more about World War II!!! This book is being hyped everywhere right now, so I gave it a try. Thanks to one of the most boring "readers" in audio book history, this took about as long as the war itself, which is a shame because it was an otherwise excellent book. I should have quit and requested a print copy, but no! I soldiered on! (Sorry to mix in soldiers in a post on sailors!). In addition to the dull, dull, dull voice of the reader, the author made things worse by being unable to find another word for
"leviathan."
I cannot believe his editor let him use it so many times I nearly wrecked the car screaming over it!!
Last Stand of the Tin Can Sailors....
by James Hornfischer.
Dick Francis's Gamble
by Felix Francis Felix isn't Dick and it shows. Still, I enjoyed this audio book--just right for the busy week I had. Examples of problems:
"[My dad] was meant to be a " (as in "my Dad said he was a groom at Churchill Downs, but really he was a bookie).
or: "He couldn't have done." Really? I Lu'ville [aka Louisville, Kentucky--my one-time home]?? I think not inspector!
The son of an Earl, also an Army Colonel is ....

Jewish

?? In the BRITISH Army--bastion of chinless public school old boys?? What are there one? two? Jewish peers at best in the whole of the U.K. Peerage?
A Few Others......

W
hile We're Far Apart
by Lynn Austin A Sweet little World War II Christian novel I found free to try out Kindle for PC. I read it in a few hours, but enjoyed it.
The Good Daughter
by Jasmin Darznik is a touching story of the daughter of an Iranian mother and a German father. The book focuses on the the women of the family, the marriages, family life and daily challenges. An excellent look back at the Iran of the Shah.
Finally.....
I don't normally post on too many book's I've given up on, but.....
Miss Timms School for Girls
by Nayana Currimbhoy deserves some mention. Never have I spent so much time reading a book I just couldn't finish! The story is told in aching detail, the characters vivid, the story so promising, yet it just didn't ....flow? end? die? I wanted so badly to like this. Truly, I did and I really did enjoy the first part. I just couldn't change to accept the different voices in the different parts of the book. That and the story just wouldn't flow? end? die? It was interminable. It will be a big movie though, likely nominated for an Academy Award. That's usually my luck with books I didn't quite like!
Need more reading inspiration? Head over to
5 Minutes for Books
and see what's on all the other Nightstands this month!