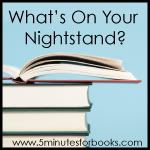 "There we go then," Mum said, "I'll just get my Uzi and we'll be off...."
"Bullets, lipstick, sunglasses. Off we go...."

(p. 28-29).
I grew up with families like these. This book resonated with me--the farms lost, the old people, the tragedies of our everyday family life--all of it. The Erikson's are an Iowa farm family in the early 1970s. Each of the four children take a slightly different, but believable, path in life. Tragedy strikes. Marriages fray. Money is made and lost. Normal mid-western life. I listened to the audio and thoroughly enjoyed it.
The Year We Left Home
by Jean Thompson.
My Mom and I, along with my late Dad, were HUGE fans of the books and tv series "All Creatures Great and Small" which starred Carol Drinkwater as Helen Herriot. We enjoyed the first of her "Olive Trilogy" a few weeks back. Mom accidentally ordered the THIRD book next so we skipped ahead in the story and enjoyed it. In spite of her rather shrill, spoiled-little-girl ranting against shooting the wild boars this was another nice installment to the story. The characters that surround her are so marvelous and the food makes you drool!
The Olive Harvest
by Carol Drinkwater.
This book is a MARVEL! What an unexpected gem of a book! I loved every word of it. Society girls, sick of the round of parties and good works while waiting for husbands to arrive on the scene take a bold step and change lives. Like modern day Peace Corps Volunteers they journeyed to a remote part of early-20th Century Colorado to teach school. Just read this one--you won't regret it. A definite possibility for my "Must Read Book of the Year."
Nothing Daunted: The Unexpected Education of Two Society Girls in the West
by Dorothy Wickenden.
Imagine women being able to easily bear children into their 70s or beyond? No more agonies of fertility treatments? Well, that's the idea in this novel--a "lost" tribe on the Amazon in which women remarkably bears children almost throughout their lifespan. Dr. Anneck Swenson is a research scientist and doctor of obstetrics who has studied these folks for year. Dr. Marina Singh arrives after another pharmacologist from her Big Pharma company disappears. Swenson and Singh have a hidden past that plays out in an interesting way. I did not find this to be a "blockbuster" of a book, but it was good enough to finish, although it could have used more editing. As I listened I was extremely annoyed that the reader of this audio book could not decide how to pronounce the name "Marina." It was so badly slaughtered on occasion I thought for a few seconds there was a new character! While listening I could picture the late Katherine Hepburn as Dr. Swennson and Donald Southerland as Anders and maybe William Hurt as Mr. Fox. Probably we'll get some huge star in the movie version. I guess I'm hoping for Meryl Streep for Dr. Swennson.
State of Wonder
by Ann Patchett.
Like
Nothing Daunted
(above) this little book is another gem. I'm positive it will become part of the literary cannon Women's Studies and be a required case study in most business schools. That said it is an amazing read! One woman's "pluck" in the face of adversity is so uplifting, so real and believable that I find myself wondering what happened to that spirit in this country? Admittedly unhampered by sweat-shop laws and other regulations that often hinder as much as they help here in the USA (No, no, I'm not PRO-sweatshop! Not all regulations are bad!!), Kamila Sidiqi, armed with a couple of basic sewing lessons goes home to start a business empire. Oh, did I mention the Taliban had forbidden women to work? That, too! She was really up against it. Her little brother had to accompany her to do business, but she made it and then some. And, took most of her neighborhood to a better existence with her. Another one to JUST READ, ok?
The Dress Maker of Khair Khana.....
by Gayle Tzemach Lemmon.
Love to read? Check out more entries at
What's on Your Nightstand
over at
5 Minutes for Books!