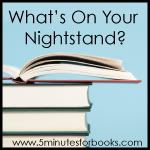 "What''s on MY nightstand this month?" LOTS of GREAT stuff!! See below and then follow the links to my other book posts for May......Then go back to "
5 Minutes for Books
" and play along!
Just like the famed castaways of 60s-favorite "Gilligan's Island," the crash survivors in "Lost in Shangri La," started out on a three hour tour by plane of a remote area of New Guinea nicknamed "Shangri La" after James Hilton's best selling book on a Utpoia. Those about the "Gremlin Special," as their plane was dubbed, were all members of the US Army and US Women's Army Corps (aka WACs) during the last part of World War II. The three survivors of the plane crash found themselves in the midst-of tribesmen with more in common to the 60s "Flintstones" than to Gilligan, the Skipper or even Mary Ann! Fierce looking and rumored to be cannibls, the stone-aged dwelling locals provided unexpected help. The real story here, though, is the heroic rescue efforts it took to get the 3 survivors out of Shangri La and the relationships that develop between the three survivors and the stone-age-ish locals as the survivors await rescue.
This book was so exciting I read the first 120 pages in one sitting!! I will likely write more on this one after I finish listening to the other WWII bestseller of the moment, "Unbroken."
Lost in Shangri La
by Mitchell Zuckoff
Meanwhile, across the world in the "other" theater of World War II, Europe, a fictional young couple meet and fall in love. Jan and Sylvana are Poles and marry just as the war is starting. Separated by the war each pursues personal survival and realizes they may never see each other again. Horrors of war for one, pleasures of war for the other are told in flashbacks. The couple reunites in a post-war Britain that is war-weary, rationed to near-starvation and ready to get back to normal life. Sylvana and Jan try to pick-up their marriage where they left off with the usual, and an unusual, secrets, insecurities, failures to communicate that such an endeavor is bound to include.
Like "Shangri La," I couldn't put this one down. Both books were on Amazon's "Best Book of May," list and both richly deserve their accolades.
22 Britiannia Road
by Amanda Hodkinson
Other book posts this month:
I did not review, but thoroughly enjoyed Tracy Chevalier's
Remarkable Creatures.
A Visit With Sir Winston
.....
A New Take on an Ancient Story
.....
In the Land of Invisible Women, a Story of Life in the Kingdom
.
....