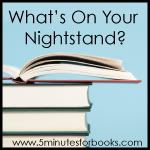 Ok, I'm cheating a bit! I've already posted these reviews, but desperately want to play along again with "What's on Your Nightstand," so I hope everyone will forgive me this time!
Two NEW Reviews first......
If you read this blog at all you know there are some books I like better in audio books. The "No. 1 Ladies Detective Agency" series by Alexander McCall Smith is a great example. Without the incomparable Lizette LeCat to voice the characters in just the perfect way, I would not have loved these books. This installment features a lovely, lovely gift for Precious Ramotswe!! No spoilers here! You'll need to read it to find out what it is! And then there are the engaged couple Puti and Grace--and Grace's ever-talking shoes! A good addition to the series.
The Saturday Big Tent Wedding
.
And furthermore [I could say!], if you read this blog at all you know I LOVE "As Time Goes By" with Judi Dench and Geoffrey Palmer (I also love Mrs. Brown and several other things with Judi Dench!) so I was excited when I received the audio book of Dame Judi's "latest" years memoir. Samantha Bond, aka "Miss Moneypenny" of James Bond fame, reads the book. Not a bad substitute for Judi, but still, I was disappointed. The first two discs were basically "Judi reads her scrapbook" and featured a lot of long lists of fellow cast members (many unfamiliar to many Americans--although I knew many of them from other British films or tv that I enjoy). The pace picked up a bit in the last 2 discs but many of cast jokes were of the "you had to be there" sort and not as funny as they were in the author's memory. Still, I came away with no less respect for Dame Judi and the book did nothing to diminish my love for "As Time Goes By" and all the rest.
And Furthermore

by Judi Dench.
My review of "a marriage so real..." Separate Beds
See You in Hundred Years
--
here's my review.
My review
of "possibly the sweetest coming of age story ever!"
Hotel at the Corner of Bitter and Sweet.
Mennonite in a Little Black Dress review.
Battle Hymn of the Tiger Mother review
.
My review of a "modern day Sense and Sensibility"
T
hree Weissmans of Westport.
Join the fun over at
5 Minutes for Books.