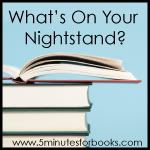 Since my blog is almost all what I'm reading these days, I wasn't sure if I had anything to add to the Nightstand this month, but searched around and found that I do! [New readers may want to look at recent posts to see some other great books I've enjoyed and reviewed here.]
So far, so good on this one--the
Sisters from Hardscrabble Bay
. Sisters Avis and Idella are growing up the hard way in a hardscrabble area of Canada up beyond Maine. Herring and lobster, potatoes and more potatoes are their lot. The dialogue is witty and authentic. The setting is felt as well as described. I'm only through the first part [I've got the audio book] but it's really holding my interest. I choose not to check out reviews on this one and to just plunge in since the sisters, were they real, would have been about my paternal grandmothers age and she grew up on a farm that was about as robust--only in the Midwest.
Cressida, too, has a hardscrabble life in post war South Africa. Her family has watched over her camatose father for years. The houseboy is often her "father" and a mysterious neighbor adds to her slightly odd life. This is a very quirky little book--more of a novella or short story than a true "novel." A play on "Beauty and the Beast," that quickly draws the reader in and keeps the pages turning.
Servant's Quarters
.
Stephanie Plum is back for book 14 of this marvelous bounty-hunter mystery/romance series. Could sexy Joe Morrelli REALLY have a teenage son?? And, will former you-know-what Lula get her big break when Singer-Superstar "Brenda" comes to Trenton and the gals get part of her security gig? Grandma Mazur blasting Griefers in an online fantasy game?? You bet! With 60 pages left to go, I have to say this one has been a ton of fun! No Randy Briggs [my favorite occasional character] but a great Brenda-stalker who tries to warn her of his quirky dreams about her safety! A Bob the dog and Rex the hamster are there for stability while Stephanie's mom swigs booze and serves up baked ham!
Fearless Fourteen
.