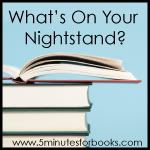 This month has flown by! I've done a little reading, but not as much as normal. At a loss for once for what to read I went to my "to read" list and picked some that had been there way too long! Anyway, here's what I've been enjoying:
Cry, the Beloved Country
This one has been on my list since I returned from Peace Corps in '91!!! It is mesmerizing and I cannot believe I waited twenty years to pick it up. It's pulls me into the rich world of racial tension, misguided laws, and out-and-out cruelty, then shocks me with care, love and truth. This is simply a not to be missed book. Read a little about the history of Apartheid before you start if you are not familiar with South Africa. You won't be sorry--and you will remember this book forever.
A Year in Provence
This one has also been on the list since at least the early days of the Clinton administration! I wouldn't let myself watch the tv series till I read the book. Guess what I got from the library? The cds of the tv series! I'm enjoying the show as much as the book. Like
Under the Tuscan Sun
this book lets you really LIVE the expat experience--the kind of expat life I like, the one lived as far away from other expats as possible! A very fun read!
I like to pick up Young Adult books occasionally. On the library sale pile I found this one:
Meet the Austins
I came away from this book very disappointed. Madeline L'Engle is a much better writer than this book suggests. I found it trite and unsatisfying, though there were nice "bits." Compared to the
Melendy Quartet
this book isn't even a good first draft. I felt sorry for the little girl who joined L'Engle's real-life family in tragic circumstances. There is a bitterness just below the surface in this book. I read, after finishing the book, that an additional chapter had been cut, then replace in newer editions of the book. I've ordered another Austin's book from the library to see if the series gets better--but did so only because I loved the
Wrinkle in Time
books and the
Crosswicks Journal
[which her family claimed were almost fiction!!].
Finally, my love of all things Roosevelt led me to grab this massive tome!
FDR: Champion of Freedom
I've read nearly everything ever pubished on TR, FDR and Eleanor, so I won't pretend to you that I'm going to read every single word of this 1000 page + opus. So far I've found things that have made me mad and, although FDR isn't even Governor of NY yet, I'm totally sick of the author's bias and snark. Still, I have actually found some a few tidbits I didn't know before so it's been worthwhile.
What's on
Your Nightstand this Month? Go to 5 Minutes for Books
and participate!