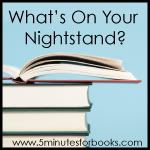 P and I really enjoyed listening to
Going Solo by Roald Dahl
[Thanks,
Barb
, for the recommendation]. It's a little ahead of where we are with history, but we have to use the library as much as possible for home school so we taken them as they come!
Right now, we are listening to
The Chosen
by Chaim Potok--one of my all-time favorite "coming of age" stories. We'll be having a movie night for it when we're done. So far, P is really making nice comments on it. We're about 1/4 done.
Personally, I've been listening to
The March

by E.L. Doctorow
and while it's had a few "oh come on!" moments I've mostly found it interesting.
My print books have been a different bunch lately. Right now I'm entranced by
Don't Lets Go to the Dogs Tonight
by Alexandra Fuller. I find it fascinating that she found Malawi so darned hot all the time! I remember being in Zomba and wearing a sweatshirt. Guess it's her English roots showing--and my scorching hot, 100% humidity, no air conditioning Midwestern childhood showing! Still, it's part
Glass Castle
, part
Flame Trees of Thika
[which I also read and loved in April.] I listened to her book
Scribbling the Cat
a while back and loved it, too.
Keeping with my African theme of the moment, I just started a classic,
Cry the Beloved Country
by Alan Paton. In case you are wondering, I'm exploring books for World Geography for P's sophomore year of homeschool [and indulging in great books and memories of Africa!]
I fed my Royal addiction with a small book that was mostly interesting by an author who churns out decent little biographies--
Crowns in a Changing World
.
Having savored it slowly, in Charlotte Mason-approved style, I relished every single word of
My Antonia
by Willa Cather. It's definitely on the list for 10th grade literature! Just too wonderful for words. Some memorable lines and passages for my Common Place book, too! [Thanks again to Barb for the tip on the Enriched Classics series--excellent for teens who hate "literature"--lots of USEFUL notes, not just literary essays retitled "Introduction"]
Finally, I just barely made it into April with
Testament of Youth
by Vera Brittain--a Tapestry of Grace recommendation. I vividly recall the PBS Masterpiece Theater version years ago, [I believe it's on YouTube] but had not read it. It was AMAZING! So vivid! I love to read true stories that read as well as a good novel. That said, it was not the best choice for P so I'm very happy I listened to my intuition and had him read Lord of the Nutcracker Men instead.
To participate in What's on Your Nightstand go to
5 Minutes for Books
!