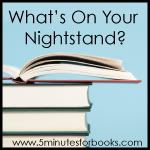 Answer is! Not a lot!! How did I let THAT happen?? Oh well....he's what I have going:
I just started this last night! This involves an 11-year old girl and her restless, artist Mom, and their travels. Katherine at age 11 is a Civil War freak. I, too, was a Civil War freak at about the same age. I devoured Bruce Catton and memorized entire parts of Gone With the Wind. (Yep! Total Freak!) There may be a "reason" take off for the north, but I'm not there yet! So far, so good is my verdict!
The Confederate General Rides North by Amanda Gable
I stalled on this one while devouring the
Nightingales
, but I've picked it back up and it's holding my interest. A classic coming-of-age story that I missed in high school.
My Antonia by Willa Cather.
I just finished, and highly recommend,
Better Off by Eric Brende.
A potential yuppie couple ditches it all to investigate life with minimal technology. They like it and, although the change locations, they stay true to their chosen minimalist life style.
In homeschool with my son, I finished Farewell to Arms by Hemingway. Much better than I expected, but just as depressing at the end as I anticipated!
In the car I'm listening to another Alexander McCall Smith book from the 44 Scotland Street series titled
Love Over Scotland
and it's WONDERFUL! I love everything of his!
Next up for homeschool audio book is
Great Expectations by Charles Dickens.

Stuck without a book to read? Head over to
5 Minutes for Books for more reviews!