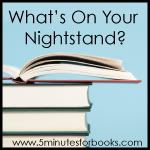 I gave my full vacation library request list
here
.
....but right now I'm reading:
The Reading Group by Elizabeth Noble
An interesting group of women including a paralegal engaged to an attorney, an infertile midwife and others read their way thru the year. The even take time to read a few of my favorites such as
Rebecca by
Daphne DuMaurier
NS
and Dodie Smith's marvelous
I Capture the Castle
.
The Imperial Cruise: A Secret History of Empire and War by James Bradley
. The subtitle was not included in the review I read, so I stupidly thought this would be about the cruise Alice Roosevelt went on with [then future President] William Howard Taft and her own future husband Congressman Nick Longworth. Alice is usally a good read all by herself, but throw in Taft and the ladiesman Longworth and I thought I'd have a hit. Instead I've got an interesting, but difficult read on American Imperialism. Bradely seems to truly loathe America, Americans and Theodore Roosevelt in particular. The Montana-sized chip on his shoulder makes his writing irritating. I totally agree with his opinion on most of the Imperialist actions of the US Government in this period of history, but his stridant hatred and condemnation makes me start wishing the book was over! Still, I am learning too much to throw the book across the room and forget it. Provacative, to say the least!
Still to come [waiting me to unwrap it--my gift to me albeit attributed to the cats who are always SO generous at Christmas] is
William Shawcross's official biography of Queen Elizabeth the Queen Mother
.
Merry Christmas! For more "What's on my Nightstand" posts go to
5 Minutes for Books.