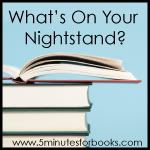 After being disappointed by several books in the last month, my list this month is a little sparse!
I've just started listening to
In the Heart of the Canyon
by Elizabeth Hyde.
Aside from a sex tip I could have gone my E.N.T.I.R.E. L.I.F.E. without hearing and an oddly a-tonal discription of married sex, both early on in the story, I have really enjoyed this one! I've always wanted to go white water rafting and doing so in the Grand Canyon would be a dream vacation--if it weren't for the pack of strangers who'd accompany me on a guided tour! This book is really close to the real thing.
I just finished Cloud Mountain, which was a good read--
here is a link to my review
.
I'm reading an old [1967] biography of the family of the Hessen royal family of Germany--the family of Queen Victoria's second daughter, Alice. This include Empress Alexandra of Russia [wife of the last Tzar who was killed by the Bolsheviks] and the grandmother of Britian's Prince Philip. I'm a royal nut, so this is right up my alley.
A Hessian Tapestry by David Duff.
I'm stalled on
Julie & Julie
and on the
Year of Living Biblically
, but do pick them up from time-to-time.
Once I pay up my fines on Saturday [I'm a librarian and I can't get things returned on time!] I'll have
Rooftops of Terhan
and
The Girls Who Went Away
I'll likely pick up several more as the month goes on. I listen to books on cd daily as I commute 1 hour and 13 minutes each way to work and this week is a 6 day work week!
Check out more books on the nightstand at
5 Minutes for Books