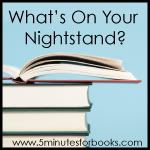 I support just about anything that gets folks reading!!
My list for Fall includes the following (P) "Print" or (A) Audio books:
1.
Ivanhoe
--this is my current Amblesideonline book--I'm using this list in my life-long learning quest. My grandmother was appalled when she took me to England in '77 that I'd never heard of Sir Walter Scott [I was 14 and in MUNCIE freakin' Indiana, but should have known...the Scholastic Book Club didn't offer books like that and, it being Indiana and all, we didn't even have a public library since we were "county" and not "city" for our address.] I'm about 1/3 of the way thru it--reading it in the slow Charlotte Mason way!
2.
VILLETTE
by Charlotte Bronte. I needed more Bronte in my life I guess. I'm about 1/4 way thru this one which I downloaded from Project Gutenberg.
3.
The Solance of Leaving Early
by Haven Kimmel. I just struggled thru her novel "The Used World" without realizing it was part of a "loose" trilogy based on her childhood in the same place I spent mine [same years]. Maybe this will help make sense of "Used World."
4.
The Evolution of Calpurnia Tate
by Jacquline Kelly. This is so wonderful!! A nature lover's delight. [NOTE to Christian Parents: She reads DARWIN....]
5.
The Time it Snowed In Puerto Rico
by Sarah McCony I found this one thru an ad on www.goodreads.com and read it almost thru in one sitting. Very good. Also just finished
Daugher in Time
by Josephine Tey from the amblesideonline list. You probably need to love English history to get into it. I really enjoyed it. Still working on
Bird by Bird
by Anne Lamott--I have to be in the mood for it, but love it when I am in that type mood. Gave up on Chris Lawford's awful spoiled brat book and on
Lost Boy
by Brent Jeffs. Jeffs' book was interesting but written in a very boring way.
g.
Julie and Julia
by Julie Powell--working on this a little at a time.
7. 8., 9.
The Tea House Fire
by Ellis Avery,
Saffron Kitchen
by
Yasmin Crowther
and
the

Sea
by John Banville all came from the library in one shipment. They are all audio books for my commute.
I wish I could get P to read ANYTHING ,but he won't. B has pretty much stopped reading, too, since she is back in public school. That's really sad--I loved sharing books with her, but she's 13 and has changed so much since going back to school......